Know about prohibited materials, stay safe & avoid fees. Learn what isn't allowed in our containers before ordering the dumpster rental
There are also waste restrictions and weight limits:

MAX 8000LB
Most residential and construction waste are accepted and can be thrown in our roll-off containers / dumpsters. However, for safety and environmental reasons there are prohibited items that must be disposed separately on per item or per pound basis. The prohibited items are classified by landfill as environmental hazard and shall not be thrown in the roll-off containers / dumpsters. These items are processed separately and you can find out more about how to dispose of environmental hazardous material and their disposal fees here. If you are already familiar with the dumpster prohibited materials and ready to order a dumpster you can schedule it now online by clicking here
Prohibited items include any material that is:
Almost all chemicals and fuels will fall into these categories. If you're unsure about whether a material is allowed in your dumpster rental check the product for warning labels. Any time you see a skull and crossbones, the biohazard symbol or the 3, 2, 1, W chemical symbol look for disposal directions on the label. You can also call your local waste department for the disposal guidance.
The list below provides an overview of prohibited items. If you have questions don't hesitate to give us a call before placing an order. We will gladly assist you with any disposal questions.  Please note that any prohibited items disposed of in our dumpsters will result in additional fees or refusal of service according to the MRC's Service Agreement.
Items not allowed in our dumpsters include:
Adhesives:

Glues and other adhesives can damage a dumpster container and cause trash items to adhere to one another. In small quantities, adhesives can be thrown out with regular trash.

Appliances:

Appliances are classified as an environmental hazard and must be disposed of separately.

Asbestos:

Asbestos is a carcinogen; a hazardous substance that was used in construction of insulation, roofing, ceiling, flooring materials. It was widely used in building structures until the late 1970s before it was banned. Certified licensed contractor is required to safely extract and remove any asbestos containing material because it poses a serious health risk.

Batteries:

All batteries contain chemicals and corrosive materials which pose a threat to landfill employees and are classified as environmental hazard.  Therefore, all batteries must be disposed of separate from other waste.

Cleaning Products:

Cleaning products may contain chemicals that can become a health hazard if they are mixed with other substances. For instance, bleach or ammonia containing cleaning products will contaminate the entire roll of container. Cleaning products must be disposed of separately in a certain way.

Contaminated Soil:

Any soil that came in contact with hazardous material such as chemicals and motor oils should be treated as if it is hazardous as well.

Electronics:

All electronic devices and components, such as capacitors and circuit boards must be disposed and processed separately.

Food Waste:

Food waste should be thrown out in your regular garbage container, not a rental dumpster. These materials can go in the landfill, but they can attract rodents and vermin.

Fuel and Flammable:

Highly flammable material including fuel such as gasoline or diesel are prohibited.

Infectious Waste:

Any material or items that contain or have come in contact with bodily fluids and medication are considered infectious waste. There are specialty waste removal experts that are licensed to handle these materials.

Motor Oils:

Motor oils including equipment containing oils are classified as environment hazardous substances and must be processed separately.

Paints and Inks:

Paints, Inks, and lacquers sometimes contain harmful materials and can also damage the company's equipment.

Refrigerants:

The refrigerants are classified as environmental hazards and regulated by federal guidelines. All freon containing material must be disposed and processed by certified and license professionals.

Sealed Tanks and Drums:

Sealed, closed tanks and drums may contain hazardous materials therefore is unaccepted and prohibited in the rented dumpster.

Tires:

All tires are disposed separately and are unaccepted in the rented dumpster or roll off container. 
Prohibited materials are disposed separately.
To check our disposal drop-off and pick up fees, click here.
To check the dumpster rental rates,  click here.
Since 2015 the new hazard warning signs are these red pictograms.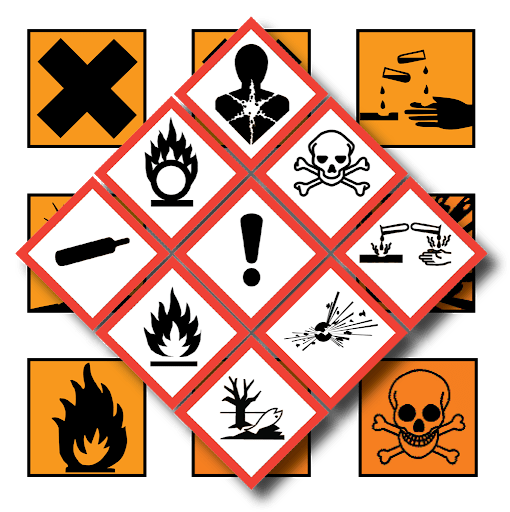 Hazardous Material Old CHIP Labeling Standards VS New GHS Labeling Standards