Know about prohibited materials, stay safe & avoid fees. Learn what isn't allowed in recyclable disposable units before ordering a curbside pickup or drooping off the disposable unit(s). 
All disposable items must be free from food waste, hazardous materials, yucky substances, and articles (collectively referred to hereinafter as a "Prohibited Material") that can not be included or placed in or with disposable items. Prohibited Material is not accepted and any such prohibited item discovered among disposing waste will result in additional fees or refusal of the requested service and may be subject to a dry run fee in case of a curbside pickup.
Prohibited items include any material that is:
Almost all chemicals and fuels will fall into these categories. If you're unsure about whether a material is allowed in the curbside pickup check the product for warning labels. Any time you see a skull and crossbones, the biohazard symbol or the 3, 2, 1, W chemical symbol look for disposal directions on the label. You can also call your local waste department for disposal guidance.
The list below provides an overview of prohibited items. If you have questions don't hesitate to give us a call before placing an order. We will gladly assist you with any disposal questions.  Please note that any prohibited items found with the disposable items will result in additional fees or refusal of service according to the MRC's Service Agreement.
Items not allowed with disposable items include:
Adhesives:

Glues and other adhesives can create a mess and cause trash items to adhere to one another. In small quantities, adhesives can be thrown out with regular trash.

Soil:

Any soil that comes in contact with hazardous materials such as chemicals and motor oils should be treated as if it is also hazardous.

Food Waste:

Food waste should be thrown in your regular garbage container. 

Infectious Waste:

Any material or items that contain or have come in contact with bodily fluids and medication are considered infectious waste. There are specialty waste removal experts that are licensed to handle these materials.

Sealed Tanks and Drums:

Sealed, closed tanks, and drums may contain hazardous materials and therefore are not accepted and prohibited for curbside pickup. Only empty tanks and drums are accepted. 
Prohibited materials are processed separately.
To check our disposal drop-off and pick-up fees, click here.
Since 2015 the new hazard warning signs are these red pictograms.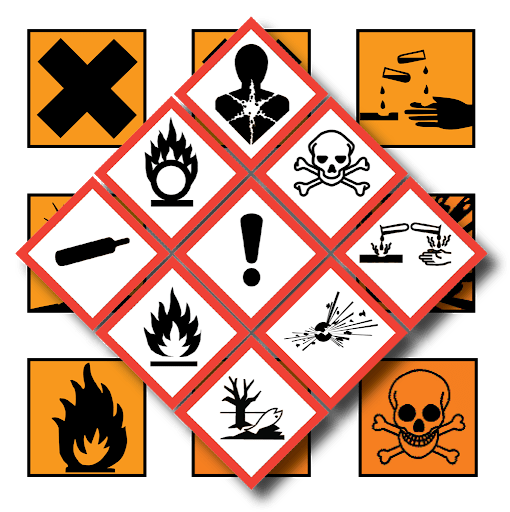 Hazardous Material Old CHIP Labeling Standards VS New GHS Labeling Standards